Catalogs
You can review e-catalogs for detailed information.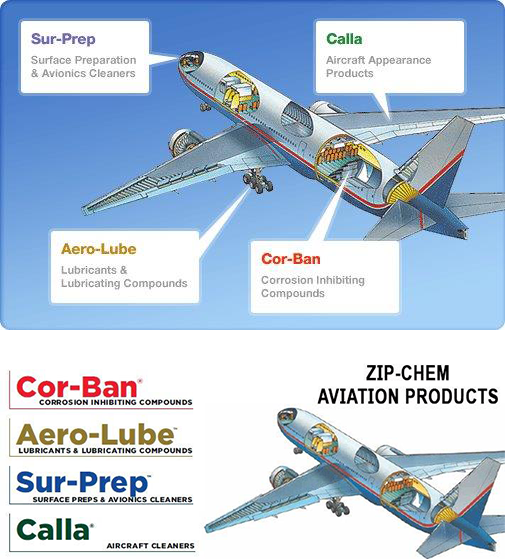 Corrosion Inhibitors for Aviation Industry
Zip-Chem manufactures required chemicals for civil and military aircrafts and maintenance.
Products designed for aviation industry includes lubrication, corrosion inhibitors, cleaners, sealants, adhesives and solvents.
Zip-Chem understands the importance of environmentally friendly product requirement and weight factor in aviation industry, products which are ozone and air quality friendly can be applied in thin layers.
Zip-Chem is a accredited company by most of the aircraft carriers (Airbus, Boeing, Embraer, Bombadier and Sillously) and some of the military aircrafts.
Product Range:
Sur-Prep is a line of avionics and general-purpose surface preparation cleaners.
The Aero-Lube™ line of aircraft lubricants includes multi purpose greases, silicones, teflon, molybdenum disulfide, and graphite lubricants.
The Calla® product line is a line of aircraft cleaners and disinfectants for interior and exterior cleaning.
Cor-Ban® is a line of corrosion inhibiting products specifically formulated for the demanding specifications of aviation maintenance.
With our industrial solutions, we are always with you.