Catalogs
You can review e-catalogs for detailed information.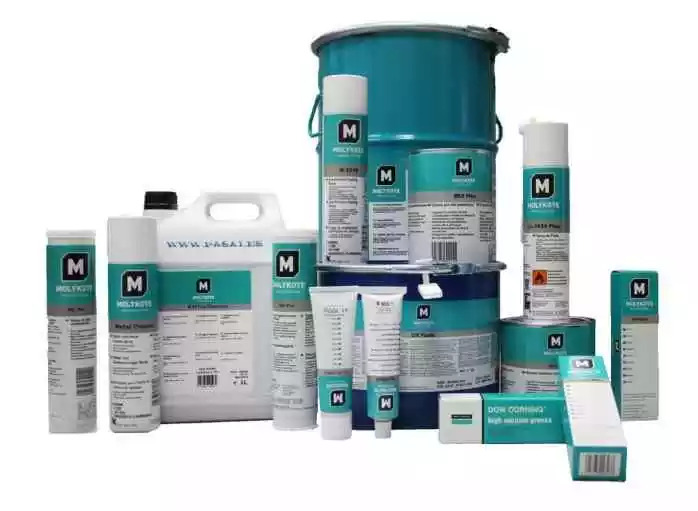 Molykote is the specialty lubricant brand of Dow Corning. Whatever your application or area, whether it is food and beverage, chemistry, industrial assembly, or maintenance, you can always find a Molykote specialty lubricant for your needs. With additives and special oils in their formulations, Molykote products provide solutions for lubrication problems at extreme conditions, decrease friction to minimal levels, and in this way extend the lifetime of the materials while providing all the requirements such as low/high temperatures, high/low speed, and energy saving.
Anti-Seize Paste Products
With different amounts of additives on base oil prevents corrosion at high loads, Dow Corning Molykote branded Anti-Seize assembly paste products are used in products which are working at high loads and high temperatures against damages from burning, corrosion at all industrial equipments.
General Features
Resistance against high levels of abrasions and continous protection
Reliable performance on wide range of temperature
Stable and constant coefficient of friction (CoF)
Resistance against water and various chemicals
Protection against corrosion
Molykote Paste product groups are greaselike materials containing a very high percentage of solid lubricants. Used for assembly and lubrication of highly loaded, slow-moving parts or threaded fasteners. Additionaly it is also suitable for slow ball bearings working under high temperatures and sliding type bearings. Can be used for lubrication of cylinders and sliding bearings, during break in process of open and closed gear groups to avoid wears.
High Performance Industrial Oils and Dispersions
Molykote High Performance Mineal Oils; hydrotreated, made from highly refined mineral oils which contains nearly no pollutants.
Molykote High Performance Synthetic Oils; manufactured to not contain any pollutants which will decrease the aimed performance defined by chemical synthesis. Contains new generation performance enhancing additives in its formula.
Molykote Dispersion products: Finely divided solid lubricants suspended in lubricating fluid; preferred when it is necessary to apply lubricants in liquid form.
Mainly used in lubrication of hard to reach or hard to lubricate bearings where decreasing of friction, temperate and sound is needed, also used where extending lubrication periods is desired.
You can achieve expected high performance with Molykote branded industrial oils and dispersion through your various kinds of applications.
Compressor and vacuum pump oils, gear box oils, chain oils, hydraulic oils and other kinds of special and multipurpose oils are available.
Anti Friction Coatings (AFC): Anti-Friction Coatings (formerly known as bonded coatings) are paint-like products. They contain, instead of a colouring pigment, submicron-sized particles of solid lubricants dispersed through carefully selected resin blends and solvents. Important for the lubricating and corrosion protection properties are the choice of the raw materials and the volume concentration of the lubricant content. MOLYKOTE® Anti-Friction Coatings form a slippery film, which covers all surface roughness and thus optimises metal-to-metal, metal-to-plastic or plastic-toplastic friction even under extreme loads and working conditions. These coatings can be applied by conventional painting techniques: spraying, dipping or brushing
Dry film paint provides long term corrosion protection.
For lubrication of hard to reach parts working under environments which contains high amounts of dust, dirt and chemicals, Dow Corning'in Molykote branded anti friction coating use is advised.
Long lasting dry film lubrication
Molykote Anti Friction Coatings provides dry and slippery film on surface while optimizing the surface friction even under high loads and hard environment conditions.
With Molykote Smart Lubrication solutions: Dry and clean lubrication without dust, dirt and moist
Long lasting lubrication without evaporation and oxidation
Resistance against rust and corrosion
Stable startups after long lasting standby time
Noise reduction and dampening
Easy to apply and fast curing time
Silicone Compounds
Greaselike materials composed of silicone fluids and silica fillers. Used for their sealing, dielectric, nonmetalto-metal lubricating properties. Also formulated to be used on plastic and rubber materials and their assembly. Provides sealing and lubrication at the same time.
Molykote Silicone Compounts are used in high end and well known various industrial sealing and lubricating applications all around the World.
As ENDÜSTRİ TEKNİK, we are successfully representing DOW CORNING/MOLYKOTE in Turkey for 55 years.
We are supplying products which are used in automotive, White appliances and heavy industry and other various ares and applications. You can contact our offices located in Ankara, İstanbul, İzmir, Bursa, Kocaeli and Hatay and get detailed information about the products.
With our industrial solutions, we are always with you.