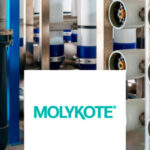 Lubricant application story: Joints
Customer's area of concern
Customer's description of component
Desalination typically is accomplished through one of two processes: osmosis or reverse osmosis. The application detailed here was found in the process of seawater reverse osmosis (SWRO). SWRO is a filtration method that removes many types of large ions by applying pressure when it is on one side of a selective membrane. The process of applying an external pressure to reverse the natural flow of pure solvent is called reverse osmosis. During assembling of the membranes, a grease is needed to lubricate the O-ring that connects between the series of membranes and to seal the O-ring and the countersurface from highpressure water (about 1,200 psi/82 Atm).
Previous solution/product previously used
Lithium-based grease with EP additives
Operational parameters (LETS)
Load
1,200 psi (82 Atm)
Environment
Seawater
Temperature
Ambient
Process description
Grease applied to O-rings using a swab
Customer's critical requirements
Problem details
The previously approved material did not have the appropriate certifications and approvals for food and water contact. The customer was looking for a product that was approved to FDA 21 CFR 175.300, NSF-51, NSF-61 and WRAS.
Root-cause analysis
The previously used material was not certified appropriately for food
and water contact.
MOLYKOTE® Smart Lubrication™ solution selected
Our product/differentiators
MOLYKOTE® 111 Compound does have a food approval and is certified by WRAS.
Result: Our solution
MOLYKOTE® 111 Compound is a good, reliable product available in a variety of packaging sizes.